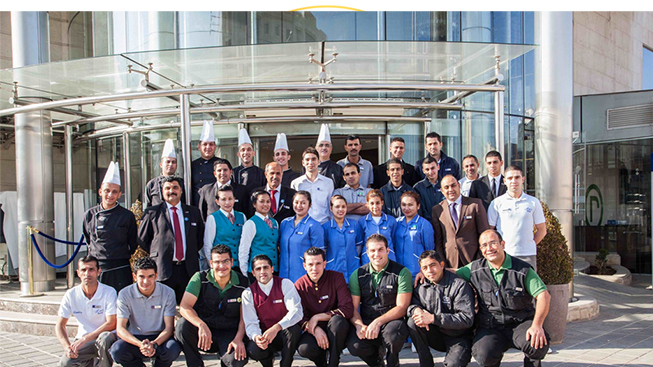 "At Ayass, our goal is to support and invest in our people for they make Ayass what it is and will become in the future. A place with great reputation, astounding quality of service and a provider of stability to those who serve on its team."
Being a member of Ayass Hotel team means you're part of a family. A family that believes in you, stands by you and is always there for you. At Ayass we believe in team work and we consider every team member an invaluable asset.
We respect and value the experience and knowledge of all our team members and we consider them a key driver of our competitive advantage. We also believe that every member of our team makes a difference. Your ideas, suggestions, and opinions are vital for our continuous improvement process.

Having both men and women, our teams are dynamic and versatile, as we strive to promote equal employment opportunities.

Because every employee at Ayass matters, all our employees are entitled to receive a competitive set of benefits including Health insurance. Our benefits packages have been carefully designed to suit the employees' needs. We also have special benefits that reward employee loyalty. So the longer you serve with us, the more benefits you will receive.

Finally, our reputation is one of our greatest strengths and major assets, both as an employer and as supplier of hospitality services. In order to protect it, we are being very careful and selective in our recruitment and staffing procedures. We make sure to choose candidates who are endowed with the qualities that would render them trustworthy and eligible to be part of our dear family.
Be part of our family and send your CV to "hr@ayasshotel.com".